The revolutionary Veg Oxi MP is a food additive, which has antioxidant, acidulant and preservative properties that maintain sensory quality and extend the shelf life of fruits and vegetables ready-to-eat, without altering the natural flavor, an unprecedent factor in the world.

It is a natural innovation solution, to replace completely the non healthy preservatives, such as sulphites largely used in the food industry worldwide.

Fruits and vegetables undergo natural oxidation or browning which has the potential to drastically shorten the period of consumer acceptance of cut fresh produce. Previously additives such as ascorbic acid (vitamin C), citric acid, and sodium metabisulphite, were used to slow this process but all gave an unpalatable bitter taste further reducing the consumer appeal of this produce. Emerging scientific research on food additives coupled with a growing consumer demand for minimally processed foods drove the need for an alternative product that could delay the oxidation of cut fruit and vegetables without negatively altering their original flavour.
Solution

The innovative development of Veg Oxi MP is a revolution in the prevention of food spoilage space. Developed by Dr Roseane Bob , Veg Oxi MP is a 100% natural, sustainable product containing the active ingredient of Vitamin C (ascorbic acid), able to completely replace other preservatives used in the food industry.

Whilst Veg Oxi MP relies on the successful track record and reliability of ascorbic acid as the active principle, it differs as the patented Veg Oxi MP formulation uniquely does not alter or diminish the original taste of ready-to-eat fresh fruits and vegetables.

Veg Oxi MP can actively contribute to reducing the estimated 40% of wasted fruits and vegetables globally and in doing so contribute positively to conserving available precious water.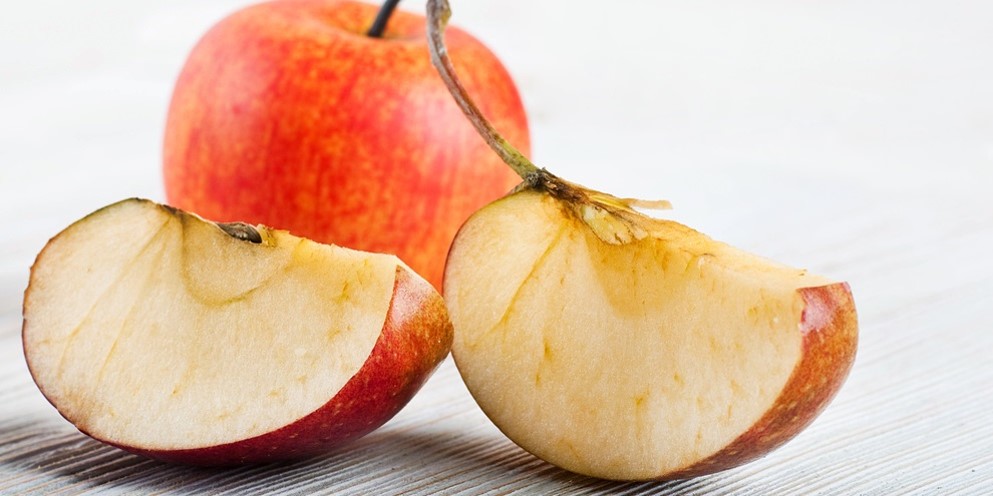 Due to the natural oxidation and its undesirable consequences on Fruits and Vegetables ("FV"), it is estimated that a minimum of 40% of all production is wasted with quality problems and product logistics.

By using our product ("Veg Oxi MP") businesses can half their losses, grow to new markets and nurture customer relationships selling a healthier FV while keeping operating costs low.

We are able to supply the Veg Oxi MP at any quantity to clients worldwide ensuring they consistently deliver outstanding quality and extended FV shelf life to their customer's base without increase of the price.
We are already selling our product Veg Oxi MP in Brazil since 2016. Thenceforward we have seen our business grow from strength to strength, but we need help to bring it in Australia.

Naturally we have patented our product it was accepted without objection by ALL 152 countries of the PCT, including Australia. In Brazil the product is approved by the National Sanitary Surveillance Agency (ANVISA) and by the Ministry of Agriculture, Livestock and Supply (MAPA). In Australia the product has been approved as safe to be inserted in the food chain by an Australian NATA("National Association of Testing Authorities" ) Certified laboratory.

Also we are prepared to provide samples to demonstrate the qualities of our product.
Our team has a wealth of knowledge spanning Customer Experience and Success to the food industry development and agribusiness technologies.

Roseane Bob co-founder is a food technician (nutritionist), graduated in Brazil. Dr. Bob is specialist in food safety and ready to eat vegetable industry who advanced understanding of Global Safety, Good Manufacturing Practices (GMP), Hazard Analysis Points Systems (HACCP), Regulatory and food Law Guidelines, Sensory and Microbiology.
In Brazil she is consultant in food safety program of reference entity (ANVISA, SESI, SENAI, SENAC, SESC).
Dr. Roseane Bob has 27 years of work experience in knowledge of food science, health and nutrition, food manufacturing processes, and quality assurance principles. In the last 15 years, she has been exclusively dedicated to working, researching and developing solutions for the ready to eat industry in all the productive stages.

MaCson Queiroz co- founder is an engineer and entrepreneur in Brazil and Australia, who has helped decisively the Veg Oxi MP project by providing financial support for research, patenting as well sales formatting of Veg Oxi MP.
Extend shelf life of fresh ready- to-eat vegetables and fruits, without changing the natural flavor.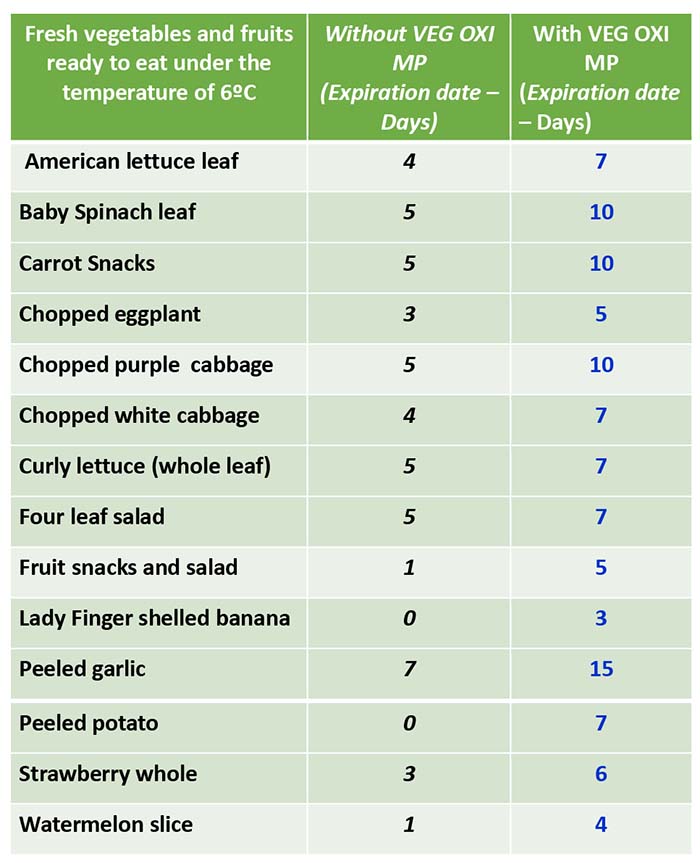 100% Natural, Organic and Vegan Product;
Maintains the health of vegetables and fruits ready-to-eat;
Reduces food waste;
Replaces metabisulphite with great advantages;
Reduces water consumption;
It is highly effective in combating strawberry mold. It can be used in post-harvest strawberries and processed whole or chopped strawberries;
Increases fresh ready to eat vegetables and fruits profits.

SAFE PRODUCT
An Australian Nata Certified laboratory already assured the Veg Oxi MP is safe to be inserted in the food chain.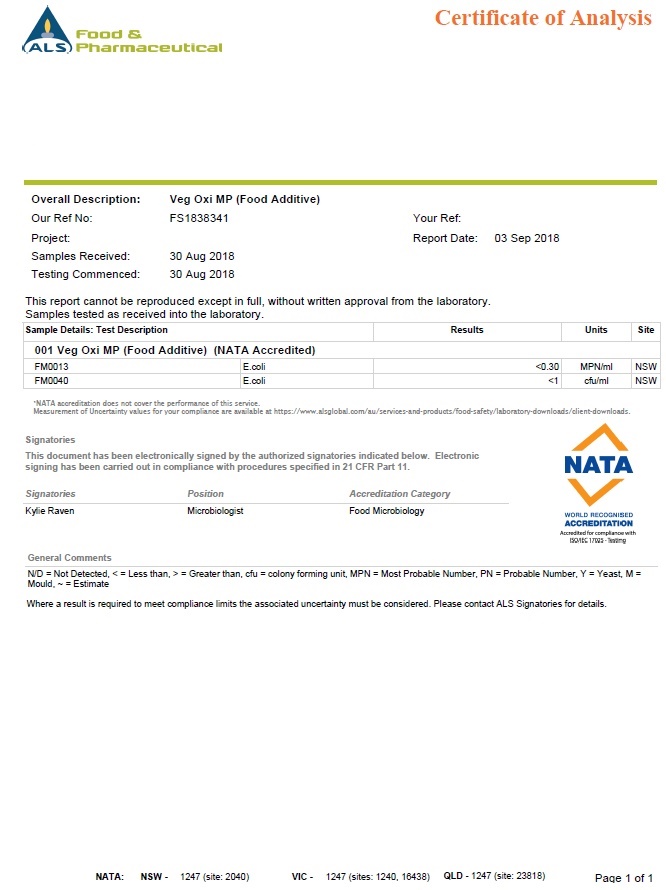 The potential commercial applications of Veg Oxi MP are extremely broad. We all know about the global problem of food waste and how impacts in the world. By enabling the extension of the shelf life of fruits and vegetables ready-to-eat, without altering the natural flavor is the best wanted global solution nowadays.

Also Veg Oxi MP replaces additives such as citric acid, sodium metabisulphite and others that are commonly used to slow this process but all give an unpalatable bitter taste further reducing the consumer appeal of this produce.

Veg Oxi MP's initial commercial focus is to extend of the shelf life of fruits and vegetables ready-to-eat, providing to the agroindustry a AU$8 billion potential saving in its food waste's bill within the first 24 months.

Veg Oxi MP is seeking commercial partners to co-develop and help commercialise large-scale applications of our natural product. If you are interested in working with Veg Oxi MP please contact us.